QB: Kirk Cousins 
Coming into his fifth year with the Vikings, Kirk Cousins is among one of the players I believe are going to breakout in the NFC in 2022.  One might say that the 11-year veteran Cousins is too old to be considered a breakout candidate, but I believe a player can breakout more than one time in their career, and Cousins is primed for his best year yet.
It's needless to say that Cousins is one of the most fortunate quarterbacks in the league having multiple playmakers on offense that consist of young star Justin Jefferson, Adam Thielin, K.J. Osborn, and a top five running back in Dalvin Cook.  Cousins had all those weapons last year and posted 4,221 passing yards with 33 touchdowns to only seven interceptions, but what makes this season different for Cousins? 
It's because of who is now running the ship in Minnesota.  After coaching the Vikings to three winning seasons out of his eight total in Minnesota, Mike Zimmer is no longer the head coach of the Vikings.  The Vikings front office have gone a different route, hiring an offensive head coach as opposed to Zimmer who was a defensive head coach.  The new hire is Kevin O'Connell who was the offensive coordinator of the 2021 Super Bowl champion, The Los Angeles Rams, where he was for two years (2020 and 2021).
There's more potential to be seen out of this offensive core and I believe the transition from a defensive to an offensive head coach will make all the difference for this talented Vikings offense.  With O'Connell working under offensive mastermind Sean McVay for two full seasons, I'm confident O'Connell's offensive-oriented mindset will show fans and media across the league a side of Kirk Cousins that they have not seen before.
RB: Cam Akers
Another player I believe will breakout this year is entering his junior year in the NFL, Cam Akers of the Los Angeles Rams.  The former second-round pick showed glimpses of talent in his rookie year, despite only starting five games out of 13, earning himself 625 rushing yards and also 123 receiving yards for the year.  In 2021 the following year, Akers unfortunately tore his Achilles tendon in July before the season, but miraculously returned to the Rams offense salvaging his sophomore season, partaking in the Rams postseason run ending in a Super Bowl win.
Even though Akers averaged 2.6 yards per carry in the postseason, fans and media are writing him off to have a bounce back season, and I'm certainly picking him as a breakout player in the NFC.  
Akers returned to the squad in record time from his injury but was likely not playing to the fullest of his capabilities.  With a full offseason to recover and improve on his game, while also being in a dynamic Sean McVay offense who loves to use the run, I believe Akers is a prime candidate to breakout in his third year.
WR: Rondale Moore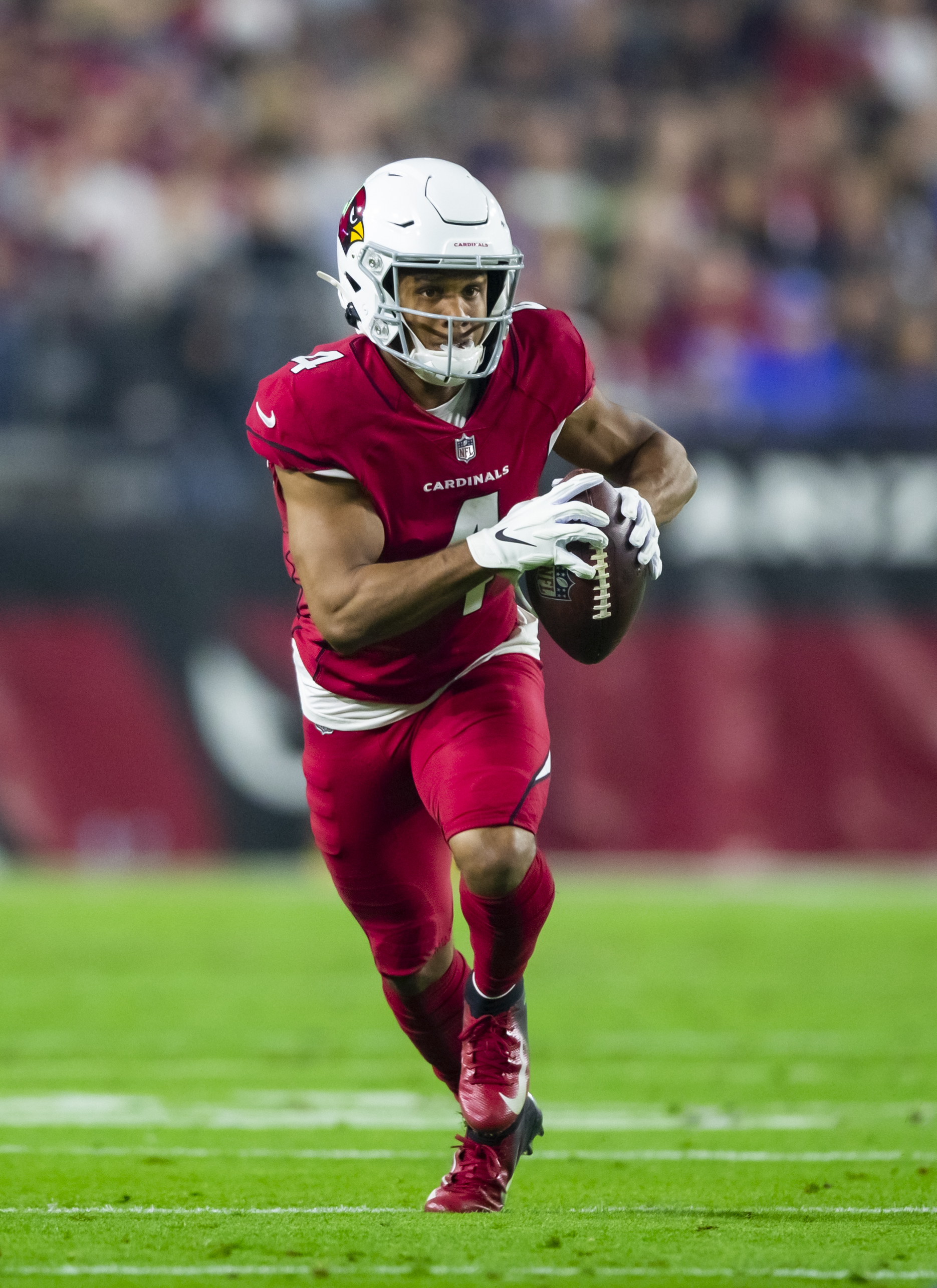 Another second-round player that will prove to critics they were worthy of their draft selection is Rondale Moore.  Moore is coming into his second year in the league after being drafted by the Arizona Cardinals.  Moore had a humble start to his career with 54 catches, 435 yards, along with a touchdown.  Moore was also relevant in Kliff Kingsbury's offense in the run game due to his 4.29 speed resulting in having 18 rushes.
If Kingsbury wishes to have his offense back to their form displayed in the beginning of the 2021 season, Moore being more involved in his offense is a necessity, especially with elite receiver DeAndre Hopkins missing the first six+ games of the season due to suspension.  With Hopkins missing significant time, there is a massive void in the Cardinals offense for a playmaker.  To address this, the Cardinals added speedy wide receiver Marquise Brown to their offense, teaming him up with Moore, A.J. Green, and Zach Ertz.  Due to Brown's speed and deep ball threat ability, the field will only open up the field and take attention away from other players in the slot like Moore.  
Without having Brown on the team and Hopkins missing the second half of the season, Moore was put in a tough situation as a rookie.  After signing Brown, another fast receiver to complement Moore, I strongly expect Moore to solidify himself as Kyler Murray's safety blanket and be one of his go-to wide receivers this year in the Cardinals offense.