Patrick Kane is at the center of a lot of trade rumors, especially because the Chicago Blackhawks have full sent themselves into a rebuild, trading away players like Dach and DeBrincat, and letting players like Strome and Kubalik walk away in free agency. Patrick Kane, who is 33, certainly doesn't want to be part of a rebuild when he is closer to the end of his career than the start of it. Patrick Kane is a New York native, being born in Buffalo, but the Sabres aren't very close to having a team that's going to make a cup run.
According to Pierre LeBrun, the agent of Patrick Kane, Pat Brisson, said this when asked about Kane's future after all the trades the Blackhawks made at the NHL Draft:
"(not) going to make any decisions or comments at this point."
Based on that, seems like there is a lot to discuss internally for Kane, his agent, and the Blackhawks to have about the situation, but I don't see a reason for the Blackhawks to keep Kane considering they are trading away players 10 years younger than Kane.
Kane had himself another great season this year, despite the Blackhawks finishing 7th in their division, just above the Arizona Coyotes. Kane played in 78 games, scoring 26 goals and assisting 66 more for a total of 92 points on the year. Kane is over a point per game in his entire career, putting up 1,180 points in 1,107 games, he has played the entirety of his career with the Blackhawks. Kane won 3 Stanley Cups with the Blackhawks , 2010, 2013, and 2015, and he won the Conn Smythe in their 2013 championship run.
The Rangers
The Rangers have been mentioned a lot as a potential destination for Patrick Kane. The Rangers have assets they could trade, and are certainly in a cup window after reaching the Eastern Conference Finals this year, losing to the Tampa Bay Lightning 4 games to 2. The Rangers have a strong roster, but still need more pieces to make that next step. The Rangers currently have a little over $10M in cap space, but Kaapo Kakko is a RFA, Andrew Copp is a UFA, and Ryan Strome is also a UFA. There's a lot of decisions the Rangers will need to make this summer, especially if they want to bring in Kane, who they would have to give a decent haul to acquire. Patrick Kane has 1 year left on his deal at a $10.5M cap hit, but seeing as the Blackhawks are fully jumping into a rebuild, there's no reason they would be against retaining salary.
Rangers superstar Artemi Panarin was once teammates and linemates with Patrick Kane in Chicago, where they had strong chemistry on the ice and could be a reason for why the Rangers would trade for Patrick Kane. The Rangers may only be interested in a deal if they can get Kane to agree to a cheaper end contract extension, as maybe they don't feel comfortable only acquiring him as a one year rental. Patrick Kane has accumulated over $100M in salary in his career, but has also won 3 cups, so who knows if he just wants a big pay day, or if he's motivated to try and win lord Stanley at least one more time.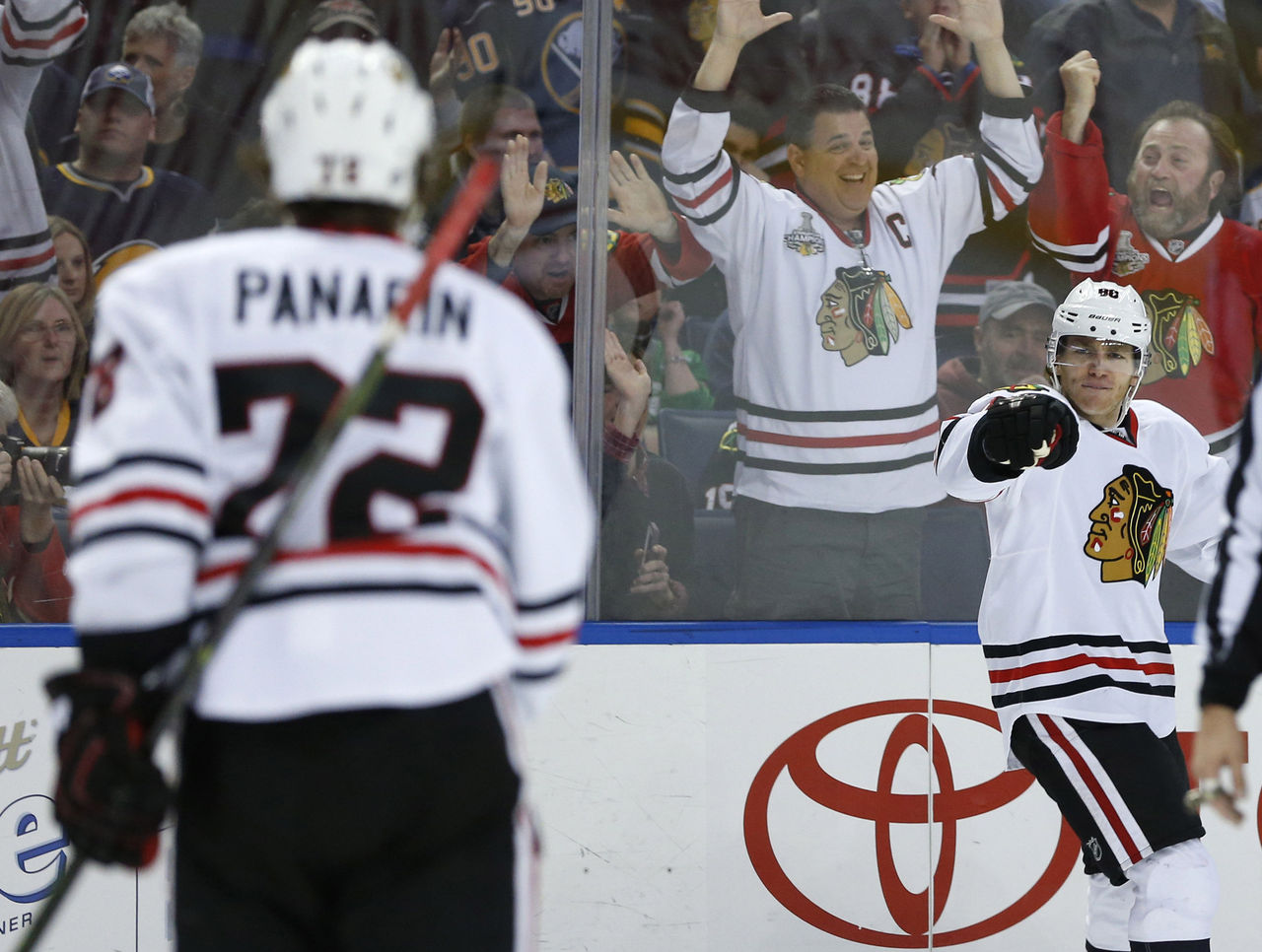 The Blackhawks
Patrick Kane only has one year left on his deal and with the Blackhawks entering a rebuild, they might as well play it safe and trade him now. They don't want to be scrambling at the deadline trying to trade him because then they could be forced to trade him for a cheaper end package since he would be leaving for nothing in the summer.
FEATURED IMAGE CREDITS:
Credit: James Guillory-USA TODAY Sports
Copyright: James Guillory