The New York Rangers exceeded all expectations in 2022. After a slow start to the regular season under new head coach Gerard Gallant, they found themselves battling for the division lead most of the season. After a second-place finish, they proved themselves to be a gritty and determined team in this year's playoffs after facing five elimination games against Pittsburgh and Carolina in the first two rounds, winning them all. New York came out hot in the Eastern Conference Finals against Tampa Bay, taking a 2-0 advantage before being visibly outplayed in the final four games of the series and losing in six games. 
The Blueshirts have one of the brightest futures of any team in the NHL. They have the perfect mix of certified stars and young talent necessary in the salary cap era. Their core of 2022 Vezina Trophy winner Igor Shesterkin, 2021 Norris Trophy winner Adam Fox, Artemi Panarin, Mika Zibanejad, and Chris Kreider is among the best in the league. Their young stars, Filip Chytil, 22, 2021 #1 overall draft pick Alexis Lafrenière, 20, and K'Andre Miller, 22, were hugely important pieces to the Ranger's playoff run, all showing important growth on the ice while playing big minutes. The team is expected to be serious contenders for the Stanley Cup in 2023, but they have needs to fill before getting there.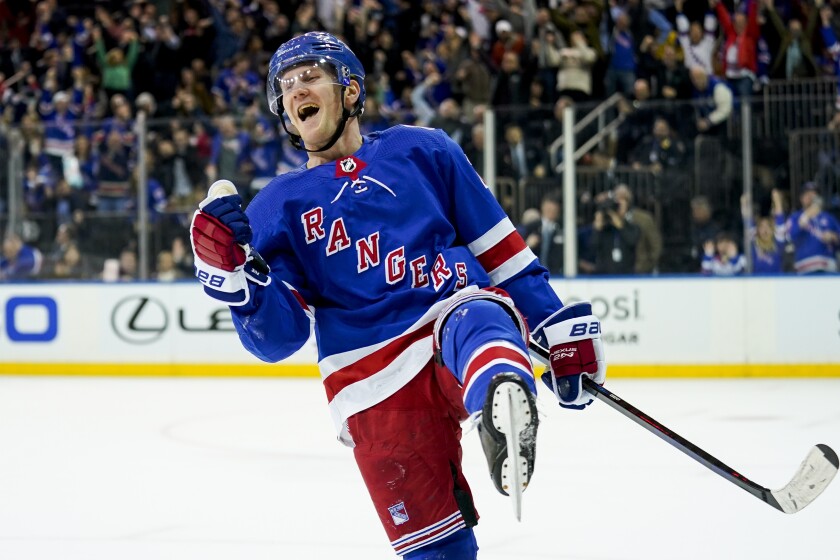 Free agency opened last Wednesday, so let's examine what needs the Rangers have addressed, the makeup of their roster today, and what they still need to address to take that next step.
First and foremost, the Rangers needed a second-line center. The organization had months to lock up Ryan Strome or Andrew Copp to a long-term contract at the 2C position but chose to let both players walk. Instead, within the first hour of free agency, the team signed Vincent Trochek, formerly of the Carolina Hurricanes, to a seven-year contract worth just over $39 million. The most interesting part of this signing is that Strome and Copp were both looking for a similar AAV to Trochek. Strome took a five-year $25 million deal with Anaheim and Copp took a 5-year $28 million deal (the same AAV as Trochek), with his hometown Detroit Red Wings. What this tells me is that the Rangers got their man. 
So, who did the Rangers get in Trochek? 
Trocheck, 29, recorded 21 goals and 51 points in 81 games last season. In the playoffs, he scored six more goals in 14 games, eventually being knocked out by his new team, The New York Rangers, in the second round. Trocheck is the type of player Head Coach Gerard Gallant is looking for, not because he coached the Pittsburgh native for over two years as head coach of the Florida Panthers, but because of the grit, toughness, and intangibles that Trochek brings to the team. 
He is a forechecker, who is not afraid to make his presence known. Trochek recorded 185 hits last season, more than Zibanejad, Strome, and Copp combined. Trochek is a hard worker on the defensive side of the puck, and someone who will play important special team minutes for the Rangers. He will be often utilized on the penalty kill, in addition to playing powerplay minutes for the Blueshirts. Whether he slots into Strome's bumper position on PP1 or headlines PP2 is still up in the air, but he will get time on the powerplay. Moreover, Trochek is a 52.1% career faceoff winner, an area where the team struggled mightily, not just in 2021, but also through their last run from 2012 thru 2017. 
Trochek will likely slot into the middle alongside Artemi Panarin on the second line. This will be a mutually beneficial partnership, as Panarin's quickness and puck skills will open opportunities for Trocheck, and Trocheck's forechecking and faceoff ability will hopefully create more offensive zone time for the second line.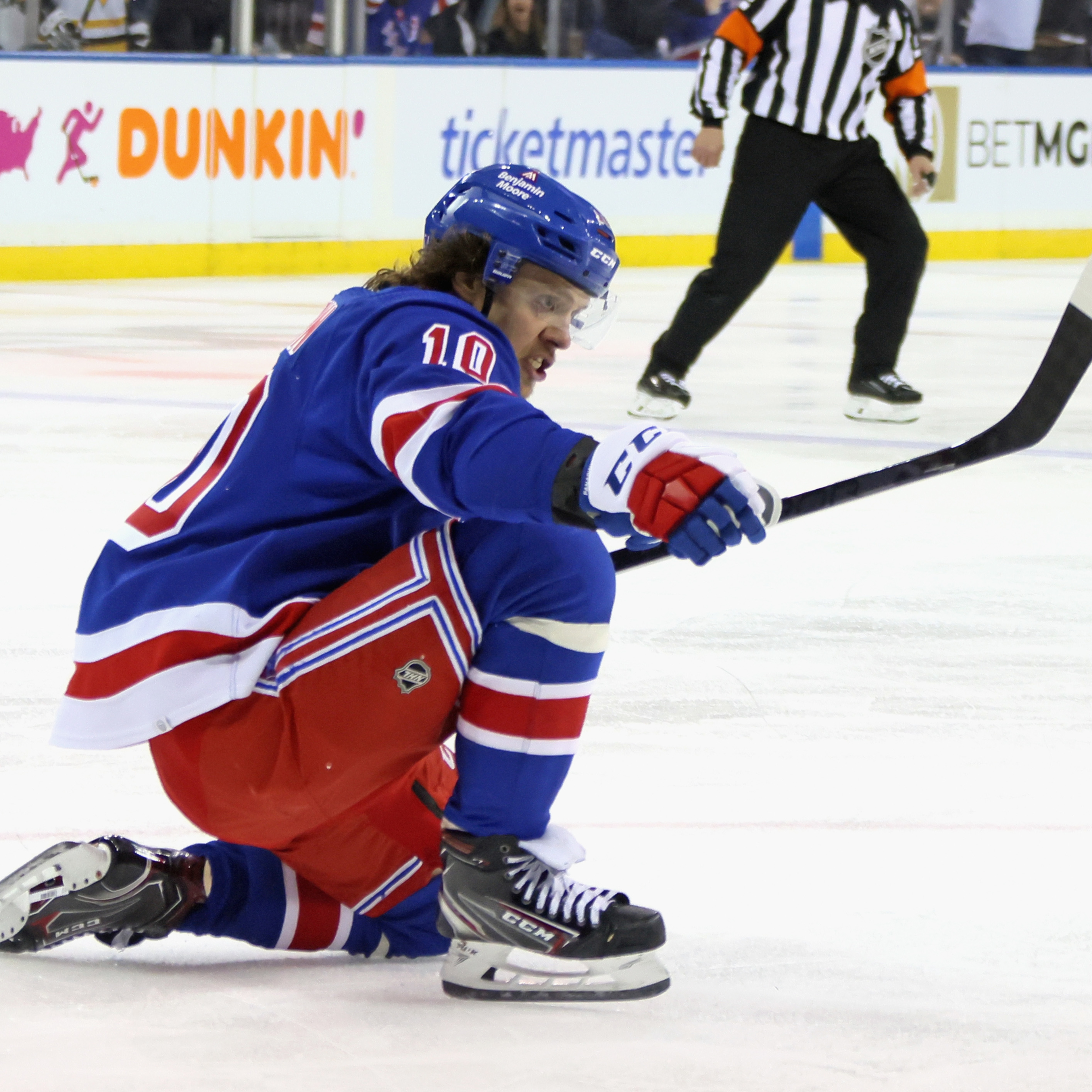 Following the Trocheck signing, the Rangers addressed their second most pressing need of a backup goalie by signing Jaroslav Halak to a one-year $1.55 million deal and then signing Louis Domingue to be the 3rd stringer. With Alexandar Georgiev signing a 3-year deal with the Colorado Avalanche after being traded for 3 draft picks, and Keith Kinkaid leaving in free agency, the Rangers were in the market for a cheaper, more experienced goalie to backup reigning Vezina winner and Hart finalist, Igor Shesterkin. Halak, 37, has 17 seasons under his belt and has a record of 285-180-64 for his career. In 12 games as an opposing goaltender in Madison Square Garden, Halak is 10-1-1, a record Ranger fans hope continues to get better throughout the 2022-2023 season. Halak's experience will be beneficial as Shesterkin continues to grow and mature, entering his third full season as a starter. 
The Rangers are still hoping to re-sign center Tyler Motte, but it is unlikely they will have the money to do so. Motte came over during last season's trade deadline and proved to be an impactful piece during the Rangers' playoff run, playing important minutes on the penalty kill and the fourth line. While Motte will not command a very high AAV, the Rangers still need to extend Kappo Kakko and have little money to do so. Dumping Patrik Nemeth's $2.5 million contract to Arizona opens the door to re-signing Motte or Kakko, but likely not both. With Kakko's age (21) and upside (2nd overall pick in the 2020 draft), the Rangers will likely look to sign him to an affordable bridge deal with a contract in the 2-year $4-5 million range. Motte will likely walk in free agency unless he takes a deal below his market value to stay in New York. 
Assuming Motte is not on the team in 2023, the Rangers will rotate newly signed center, Ryan Carpenter through the fourth line. He recently signed a one-year $750k contract with the Rangers after spending last season in Chicago and Calgary. Carpenter has a history of playing with Gallant when the two were members of the Vegas Golden Knights for a season and a half, and is expected to be a solid depth piece.
Kravtsov was re-signed on a 1 year deal worth $800k back in June, a 1 way contract meaning he can't get sent down to the AHL without clearing waivers. Kravtsov spent last season in the KHL with Chelyabinsk Traktor, putting up 13 points in 19 games. He had 10 points in 15 playoff games as well.
Heading into next season, this is how the Rangers are projected to line up. Their top three-forward lines will likely look something like this: 
Kreider, Zibanejad, Lafrenière
Panarin, Trochek, Kakko
Blais, Chytil, Kravtsov
Barclay Goodrow will be a staple on the fourth line, with Dryden Hunt, Ryan Reaves, Ryan Carpenter, and Jonny Brodzinski filling in alongside him.
The Rangers have two highly touted prospects Brennan Othmann, 19, and Will Cuylle, 20, that will have a chance to crack the lineup this year. Othmann, the Rangers' first-round pick in 2021, does not have AHL eligibility so he can only stay with the Rangers or go back to juniors. If he has a good camp, he might play nine games for the team before the front office decides if they want to keep him on the roster or send him back to juniors. Cuylle, who has AHL eligibility, will likely start in Hartford, but could be brought up to the roster if he impresses at camp. They are different players. Othmann is smaller and a more offensively gifted player with a rocket of a wrist shot. Cuylle is bigger and stronger, playing more of a physical 200-foot game.
The defensive pairings will look a lot like last year. Ryan Lindgren and partner Fox will headline as the Rangers' top defensive pairing, with Miller and Jacob Trouba backing them up as the second pairing. After a solid first season with the team, former 1st round pick Brendan Schneider will likely play on the third defensive pairing with either Zac Jones or Libor Hájek. Jones is a smaller player that is a gifted offensive-minded defenseman. The former 3rd-round pick turned pro after winning the National Championship with U-Mass Amherst and had a few looks with the Rangers after spending much of last season learning the pro game in Hartford. Hajek, out of options and subject to waivers if the Rangers want to send him down, played sparingly for the team last year. He has not been impactful since coming over as a key part of the salary-dump McDonagh/Miller trade back in 2018. 
What's next for the Rangers? 
Entering the 2022-2023 season, the team will be in great shape to compete for the Cup. At the trade deadline, General Manager Chris Drury and the front office will look to bolster the team as they prepare for another deep playoff run. The Rangers have been linked to Patrick Kane all offseason, and he will end up being traded at, or before the trade deadline. Will it be to the Blueshirts? Drury will not only need to give up assets to get a player of Kane's ability but will also need to find the cap space to bring in a player like Kane. Is it worth giving up Kakko and other young players, who could go on to have long careers for a chance to compete for the cup? The Blackhawks will need to trade Kane, as he will be a UFA next summer, and will likely have no issue retaining salary, which could benefit the Rangers if they choose to pursue a trade. Time will only tell, but there is plenty of reason to be excited about the future.