The Florida Panthers and Calgary Flames have made the biggest trade of the summer so far. Both teams were eliminated in the second round of playoffs this past season. In the regular season the Panthers had 122 points, while the Flames had 111 points. Lets take a look at the trade, per Frank Seravalli:
Florida Panthers receive:
Matthew Tkachuk (Extension agreed)
4th round pick
Calgary Flames receive:
Jonathan Huberdeau
MacKenzie Weegar
Cole Schwindt
First round pick
A huge trade involving some very high level players, lets take a look at the breakdown.
Florida Panthers
The Florida Panthers received Matthew Tkachuk, a 24 year old winger who is coming off a 104 point season. He played the full 82 games, scoring 42 goals and assisting 64. These were career high numbers by far, his highest point total before this season was 77 back in the 2018-2019 season, but he is very young and this shows a ton of potential to be a 70-80+ point guy every single season. In playoff this past season, Tkachuk had 10 points in 12 games, 4 of those being goals. Tkachuk led the Flames in the regular season in goals (42), PIMs drawn (66), was second in points per 60 min (4.53), led in high danger unblocked shot attempts (35), created the most rebounds (21), and was second on the team in on-ice goal differential, at +96. (Stats via MoneyPuck)
The Panthers agreed an extension with Tkachuk, an 8 year deal with an AAV of $9.5M. A good contract that locks up a star player until he is 32 years old. Tkachuk is a dominant player with a very high ceiling, but the Panthers did give up a lot in this deal, only time will tell who truly won the deal, considering there is some important factors on the Flames side.
Calgary Flames
Let's go one by one, to start, the Flames received Jonathan Huberdeau, a 29 year old winger who went third overall in 2011. Huberdeau had a more dominant season than Tkachuk in the regular season, scoring 30 goals and assisting 85 for a total of 115 points in 80 games. Huberdeau has been over a point per game for the last 4 regular seasons straight, consistently putting up very high level numbers. Huberdeau and the rest of the Panthers squad struggled in playoffs, he had 5 points in 10 games. The situation with Huberdeau is that he is a UFA at the end of this upcoming season, the Flames are either going to want to strike an extension with Huberdeau, or they will likely have to trade him at the deadline as a rental to another team. Huberdeau is on an extremely great value deal for the numbers he is producing, with a cap hit of only $5.9M. Huberdeau had the second best on ice goal differential (70), the highest high danger unblocked shot attempts (35), and the highest points per 60 minutes (3.55) on the Panthers this past season.
MacKenzie Weegar
MacKenzie Weegar is a 28 year old defenseman who gets it done on both ends of the ice. This past season he played 80 games, scoring 8 goals and assisting 36 for a total of 44 points. He struggled offensively in playoffs, putting up only 1 points in 10 games. Weegar led the Panthers in blocked shots, blocking 156 shots last season, an average of 5 blocks per 60 min played. The issue with Weegar is the same as with Huberdeau, he is a UFA at the end of this season. I have a feeling that there is no way the Flames make this trade if they can't get at least one of these two re-signed on a longer term deal. A horror story for Flames fans would be if they both walk in free agency, but the Flames will probably start talks about extensions early, and worst case scenario will be a trade at the deadline. Weegar currently has a cap hit of $3.25M, per CapFriendly.
Cole Schwindt
Cole Schwindt, center, is a 21 year old prospect that has only played in 3 NHL games in his career. He was off to a cold start with 0 points in 3 games played, and a FO% of 48.3%. He spent the other part of this past season in the AHL with the Charlotte Checkers, where he played 72 games, scoring 19 goals and assisting 21 for a total of 40 points. He had 3 points in 7 playoff games. Cole Schwindt is considered a mid tier prospect, he is putting up good numbers in the AHL, especially for a 21 year old, and can certainly grow into a middle 6 level NHL player.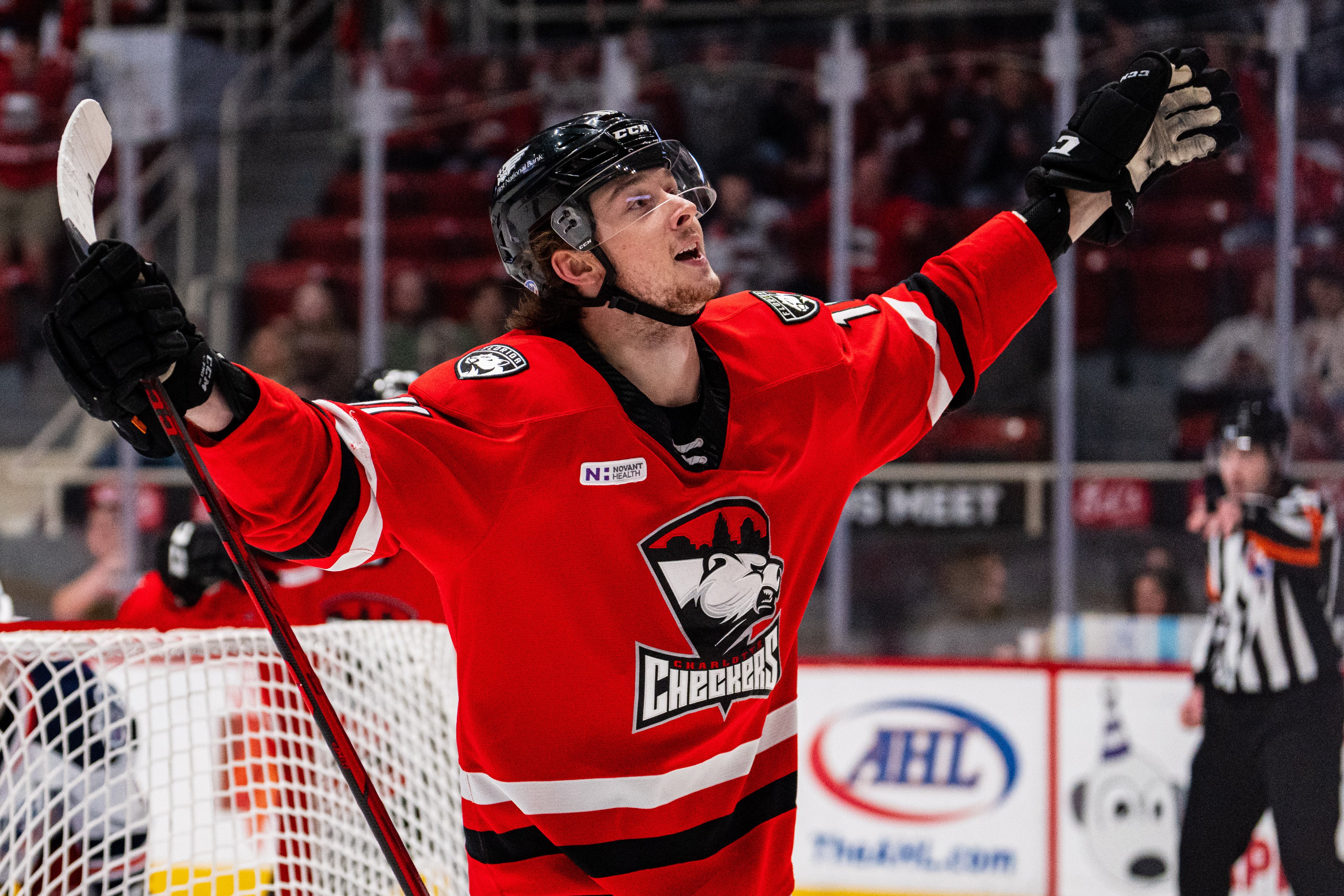 First Round Pick
With the Florida Panthers being a playoff team, this first round pick will likely be on the back end of the first round, but there is certainly always some gems there, and the value of this is based off of how good can the Flames draft.
Who won the trade?
Right now, the Flames won this trade, but it really all comes down to can the re-sign Huberdeau and Weegar. If they can get both those guys signed, this trade is a win for the Flames along with the extra assets in Schwindt and a 1st. If Huberdeau and Weegar don't re-sign, and get traded at the deadline, well then the Panthers might have made the best move in locking up a star forward for a long time. Maybe Huberdeau wasn't going to re-sign in Florida, and thats a big part of the reason he was dealt. What do you think?