The college football season was finally underway last weekend, which means we won't be without it until the second week of January. We will break down a game from last weekend and look at this week's upcoming matchups that everyone is awaiting. 
Nebraska Vs. Northwestern:  
Scott Frost and the Cornhuskers had to live up to the hype, when ESPN analyst Kirk Herbstreit picked Frost and the Huskers to win the Big Ten West and go to the championship game against the Ohio State Buckeyes. Unfortunately yet again, Nebraska fell short losing 31-28. The Cornhuskers and Wildcats started out the first two quarters with a pretty even matchup. 
Casey Thompson threw a 32 yard bomb to Isaiah Garcia-Castaneda in the first quarter to put Nebraska up 7-0, whereas Northwestern had a few good drives down the field, but only ended up with a field goal. 
As the second quarter rolled around, Northwestern finally got their offense into the end zone a couple times. Ryan Hilinski threw a 41 yard pass to Raymond Niro III and later threw a short 6 yarder to Donny Navarro to outscore Nebraska 14-7 in the second quarter. Casey Thompson punched in a 1 yard run to at least have something on the board for the Cornhuskers in the second quarter. 
After coming out of halftime only down 3, Scott Frost and his offense flip flopped with Pat Fitzgerald and his offense in the third quarter out scoring Northwestern 14-7 and going up 28-24 going into the 4th. 
Northwestern was able to prevail in the 4th scoring only once to go up 31-28 and shutting Nebraska out to win their first game of the season and get an early head start on the Big Ten West.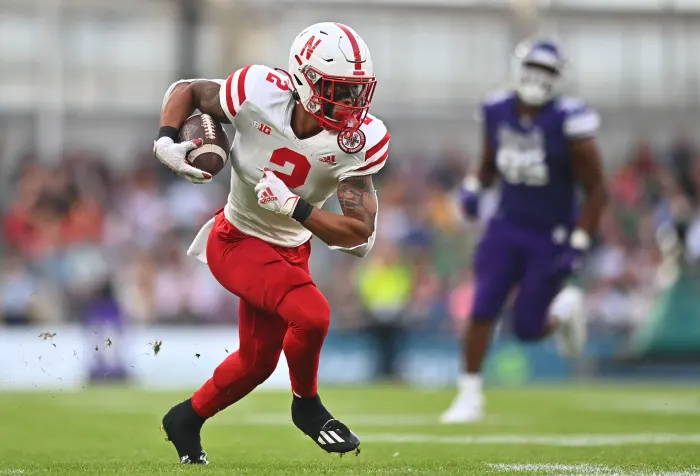 #11 Oregon Vs. #3 Georgia
This has been highly anticipated matchup, and a good one at that, with a solid Pacific 12 team in Oregon to go up against defending national champion Georgia. The Bulldogs have lost quite a few players, but they made up that loss with profit from their draft class and solid key returners. Stetson Bennett is returning for the Bulldogs and he looks to torch the Ducks defense with his arm. Georgia also has a solid veteran running back in Kenny McIntosh to be behind Bennett when he is needed. 
As for Oregon, Bo Nix is looking forward to facing Georgia again and to possibly get a shot at winning a game against the Bulldogs. Byron Caldwell is the running back this year for the Ducks, and with his speed and versatility he will definitely have a lot of breakout games and week 1 could be that weekend. Not the big game of the week but it is the second rated game with Georgia favored heavily -17.0 on the spread and that will only rise more than likely. 
#5 Notre Dame Vs. #2 Ohio State
The big game for the weekend starting at 7:30 EST on ABC is the Fighting Irish taking on the Buckeyes. Ohio State is a heavy favorite to win this matchup with also a -17.0 spread and likely will stay at that. Talented QB and former Heisman candidate CJ Stroud is looking to lead the Buckeyes down the field for multiple drives. Stroud has returning receiver Smith-Njigba returning after an impressive season last year ending it on an amazing rose bowl performance. Ohio State has some fire within them this year after losing to Michigan in the "Big Game" and look to bounce back and head to the Championship game once again to prove Kirk Herbstreit's theory correctly to win the Big Ten East. TreVeyon Henderson looks to do some damage this year as well and tear up the field and run over some players this year. 
On the other end for Notre Dame, they look to play one of the biggest games and a lot is on the line for them. Losing this game could potentially make it hard for the Fighting Irish to make it back into the top 5 only because they have yet to join a conference in football. Tyler Buchner looks to have a great season and start it off right, with Lorenzo Styles and Jayden Thomas as his main targets. Notre Dame is also a favorite to run the ball with not only Chris Tyree at the Tailback position but also Davis Sherwood in the Fullback slot to add a little more punch to get it into the end zone. 
With these two big games coming up this weekend and lots of other great matchups this weekend, and Northwestern getting the jump on the Big Ten West early, this is going to be a great college football season.