We all know the NHL playoffs is where players give it their all, putting their body on the line for a chance to win the Stanley Cup. Once playoffs end, we always hear of injuries players were dealing with, most of them STILL PLAYING in as many games as they could.
After the Colorado Avalanche vs Tampa Bay Lightning series, a couple of reporters came out with some injury reports for both teams, lets take a look.
Colorado Avalanche
The Avalanche reportedly ended the season with 6 major injuries, while smaller end injuries probably not being reported, and are dealt with internally.
The first was Darcy Kuemper, who had an eye injury occur in the middle of playoffs, but during his recovery, Avalanche head coach Bednar said that Kuemper had to go to an optometrist 2-3 times EACH DAY in order to "re-train his eye" according to Vic Lombardi.
Valeri Nichushkin played with a broken foot in the finals, and reportedly "couldn't get his skate on without medical assistance" according to Peter Baugh. He played almost 23 minutes of ice time on his broken foot. He played a huge role for the Avalanche this playoffs, scoring 9 goals and assisting 6 while playing in all 20 games.
Andre Burakovsky had both a broken foot and a broken thumb, but still managed to play in 12 games this playoffs, putting up 8 points.
Nazem Kadri broke his thumb against the Edmonton Oilers, had surgery, and 18 days later was playing in the Stanley Cup finals scoring a game winner in overtime. Amazing story for Kadri, who had 7 goals and 8 assists in 16 games this playoffs.
Samuel Girard had a broken sternum which happened in a hit against the St. Louis Blues, he was unable to return but did have 3 points in the first 7 games of playoffs.
The final reported injury was veteran Darren Helm, who had an abdominal tear, but still managed to play all 20 games, picking up 5 points in the process.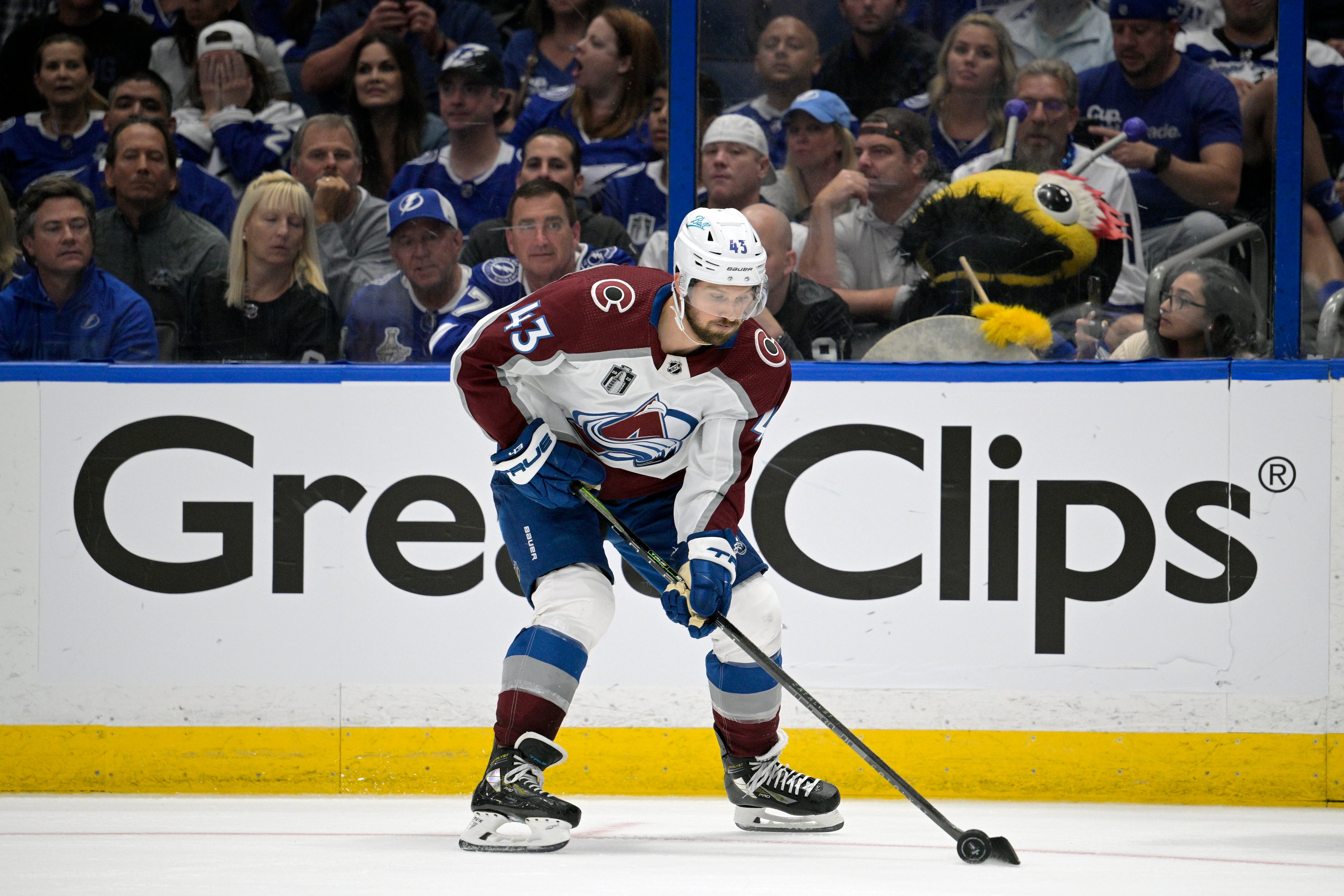 That's it for major injuries for the Avalanche, with some other notes such as Gabriel Landeskog was likely at only 75% after recently coming off surgery, but still managed to put up 22 points in 20 games this playoffs. I am sure some other players were dealing with minor issues as well. Injury report credit:
Tampa Bay Lightning
Pierre-Edouard Bellemare reportedly played the entire playoffs with a meniscus injury, he managed to put up 3 points in 23 games this playoffs.
Anthony Cirelli had a solid playoffs, putting up 3 goals and 5 assists in 23 games, but he dealt with 2 big injuries. He had a shoulder joint sprain vs the New York Rangers, and then dislocated his other shoulder vs the Colorado Avalanche.
Nikita Kucherov had himself another great playoffs, 8 goals and 19 assists in 23 games. He ended up with an MCL sprain during the series vs Colorado.
Nick Paul, acquired by the Lightning this season, had 5 goals and 4 assists in 23 games. He also had multiple injuries, the first being a shoulder sprain vs the Rangers, the second being and MCL sprain against the Avalanche.
Corey Perry had 6 goals and 5 assists in 23 playoff games, he also struggled with a shoulder sprain that happened vs the Rangers.
Brayden Point unfortunately only got to play in 9 playoff games this season, where he had 5 points. He had a significant quad tear that happened vs the Toronto Maple Leafs. Brayden Point attempted to come back, but we often got this report:
You can probably imagine some people had fun with this tweet…
The final major injury the Lightning had was Ryan Mcdonagh, who had a "mangled finger from blocking a shot" against the New York Rangers. He played in all 23 games, picking up 5 points.
ADDED: Just saw another report of an injury, Brandon Hagel had a foot fracture in the series against the Florida Panthers, as reported by Joe Smith.
Extremely impressive from the Tampa Bay Lightning players, who had 6 players with major injuries play in evey playoff game this season. Here is tweet credit for the injury report:
One of the best Stanley Cup finals in recent years, congratulations to the Colorado Avalanche on winning the Stanley Cup, and what a 3 year run it has been for the Tampa Bay Lightning, winning it twice. All players are reported to make full recoveries from their injuries, which is of course always good to hear.